Host in Paris, furnished flat rental agency with service in Paris offers you a selection of its best addresses to enjoy gourmet pleasures.
Well installed in our furnished flats, with terrace or balcony, unobstructed views, comfortable sofas and high quality connections to watch all your favourite series come and discover our good gourmet addresses.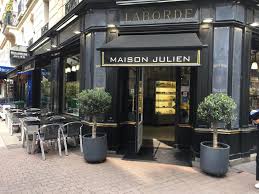 Where is the best baguette in Paris?
In 2020, to taste the best baguette in Paris, you have to go to the 17th: 13 rue Pierre Demours. Crowned for her traditional baguette. The bakery has other beautiful products. Discover in particular the "bread of the islands", "the sportsmen's bread", "the giant with pumpkin seed" or "the organic ginger and rye bread". And Taieb, head baker, also recommends the pastries made by his colleagues, who have won several awards at the Trophées de la pâtisserie d'île-de- France. Don't hesitate to visit the cheese dairy on the same street: Le Calendos, its selection of cheese will be perfect to accompany your baguette.
If you don't have the time or the courage to cross the whole of Paris, other bakery chefs have made a name for themselves :
Baptiste LEAUTE – L'essentiel Mouffetard – 2, rue Mouffetard 5e
Liman TIGANI – Boulangerie Martyrs – 10, rue des Martyrs 9e
Laurent DEMONCY – Au 140 – 140, rue de Belleville 20e
Anthony TEIXEIRA – Aux délices du Palais – 60, Boulevard Brune 14e
Khemoussi MANSOUR – Aux délices de Glacière – 90, Bd Auguste Blanqui 13e
Ahmed OUNISSI – Boulangerie Lorette – 2, rue de la Butte aux Cailles 13e
Thierry GUYOT – Boulangerie Guyot – 28, rue Monge 5e
Giovanni BIANCO – Giovanni boulangerie contemporaine – 49, rue Chardon Lagache 16e
Jérôme LEPARQ – Maison Leparq – 6, rue de Lourmel 15e
So don't hesitate to let us know your good neighbourhood addresses, or tell us what types of businesses you would like us to highlight.